I'm on a mission to change the way we think and talk about typography and to make it exciting for everybody.
I say the word "typography" and people often assume it's a specialist subject, but I disagree. I think of it more like a not-so-secret code hidden in plain sight that everybody knows how to read, they might just not realise it. From shop signs and food packaging to our favourite book covers or movie posters, I think that typography is the magical and wondrous language of our everyday lives.
As part of this mission I explore how the shapes of the words we read alter our experiences, and how understanding this could encourage positive behaviour change. By co-opting the language of consumerism and turning it towards good, I believe that we can make the world a better place.
Type Tasting Books launches in October. These are not the usual typography books. These are for people who want to change how we think and talk about typography.
Author
Sarah is published by Penguin/Random House and Laurence King Publishing. She creates content for social media and writes articles for magazines and publications, get in touch to commission a written piece.
"Walked into Waterstones earlier for a nose around and ended up buying Sarah Hyndman's 'Why Fonts Matter'. I'm up at 6am and can't put the bloody thing down. One of the best books I've read in ages." Andrew Hoare (Twitter).
A font is not just a font…
…it's an idea, a smell, a song, a memory, a personality, a warning, a taste, a seduction… When we read, we generally look past the type to focus on the experience it describes, unaware of the assumptions that we make that alter those experiences. Sarah shows that typography is cultural coding, which she's been researching and quantifying for the last few years.
Expertise
Sarah has researched type, perception and cultural codes for the last few years, and has become an accidental multi-sensory typography expert. She works as a consultant and runs training courses.
Her events, workshops and talks give audiences an entertaining look at human behaviour; the idiosyncrasies of how the brain makes decisions, or the first impressions we form that alter what we taste or smell. She is on a mission to make typography fun and exciting for all.
She works on collaborative studies with Professor Charles Spence of the Crossmodal Research Laboratory, University of Oxford. "Fascinating insight into how type can influence our feelings, our senses, and even our taste" Professor Charles Spence.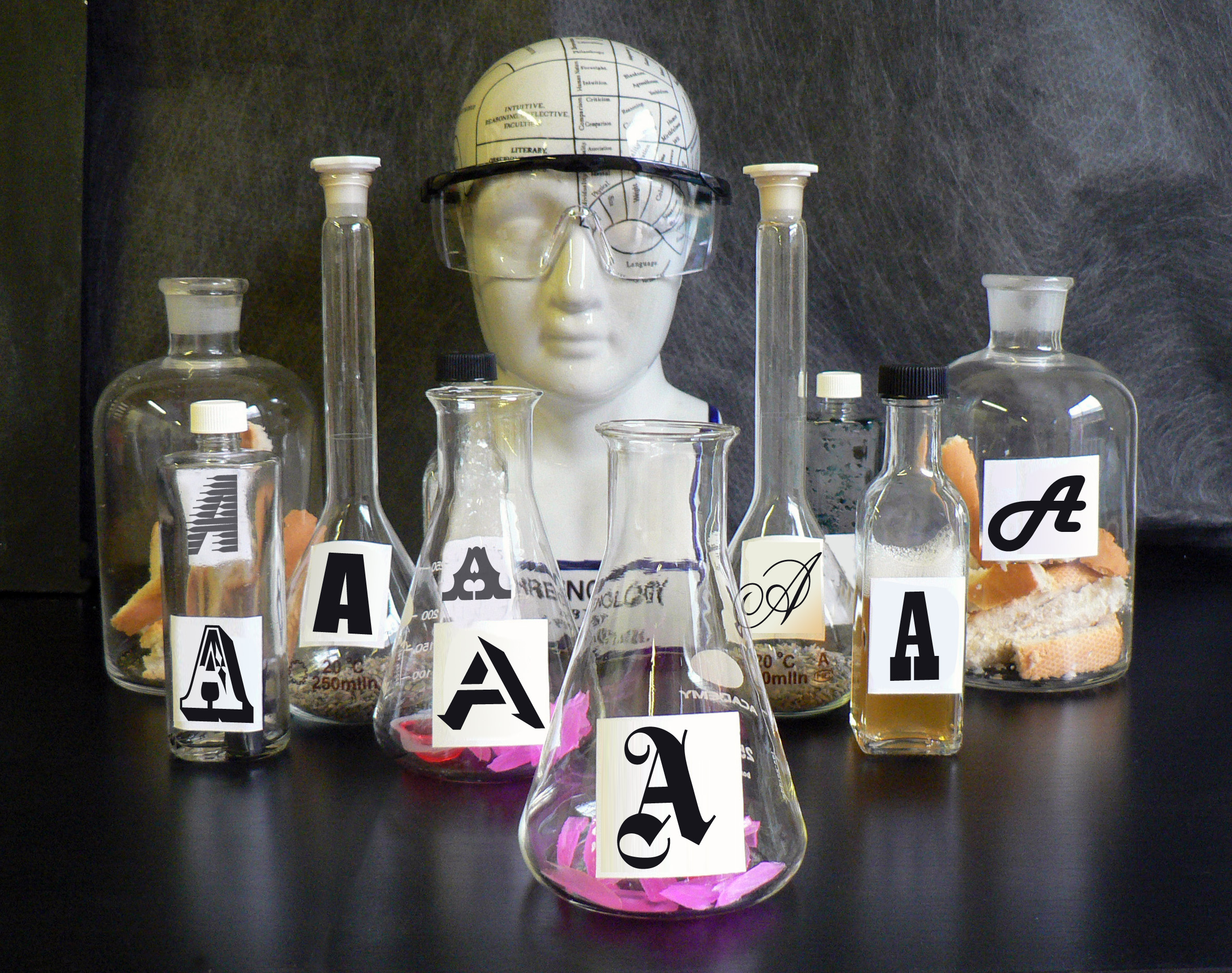 Public speaker
Sarah is a regular public speaker, she has given a TEDx talk and is an engaging guest on radio and TV (from BBC Radio 4's Word of Mouth with Michael Rosen to Channel 4's Sunday Brunch). She specialises in making the complex topic fun for a mainstream audience with originality, humour, a dash of theatre and lashings of audience participation. Audiences are often invited to participate in pre-talk experiments and games so they become a part of the discovery process.
"Sarah is a fantastic speaker–she engages audiences with a brilliant mix of warmth, good humour and real insight into her subject matter–in which she is expert. She quickly warmed up a noisy crowd and had them eating out of her hand." Luke Tonge, Glug curator.
Type Tasting founder
In 2013 Sarah Hyndman created the innovative Type Tasting studio as a forum for her research and workshops. Would you like to discover how typefaces make a first impression and they communicate your unique story? It's not about kerning, it's the impression they make on the subconscious. Enter the world of Type Tasting and you'll never look at fonts in the same way again.
Photos by Juliana Johnston (author photo), David Owens (idea facilitation), Viv Cherry (3D glasses) and Johnathan Cherry (Glug).